Following is information for Theresa Kaiser:
Email:
tkaiser@wcl.american.edu
Department/Title:
Director of Global Opportunities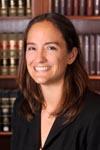 About Theresa Kaiser:
Theresa Kaiser works to identify and implement new partnerships for the law school, creating international opportunities for students and faculty. She oversees the school's unique International JD Dual Degree programs, extensive semester exchange programs, and long-standing summer abroad programs. She has a Master of Education (M.Ed.) specializing in Higher Education from Harvard University, a JD from Emory University, and undergraduate degrees in French, journalism and political science from the University of Kansas. Prior to joining WCL, Ms. Kaiser directed an adult ESL school, practiced trademark law, taught undergraduate business law, studied international law in London and lived in Italy and Belgium.
American University, Washington College of Law
4801 Massachusetts Avenue, NW
Suite 373A
202-274-4237
tkaiser@wcl.american.edu