C

OMPARATIVE

L

AW

P

ROGRAM IN

E

UROPE

---



Tuition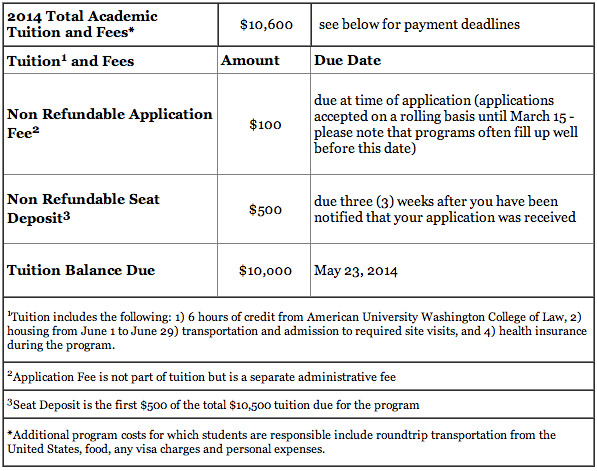 This also pays for the following:
(1) hotel housing (double occupancy) and breakfast from the nights of June 1-28;
(2) free transporation within Geneva
(3) a Paris river cruise and several receptions and celebrations.

Fees and approximate other costs:
• $900, round trip airfare from the East Coast/Midwest
• $350, three days of program-related train travel
• $250, Textbooks
• $1,820 ($65 per day x 28 days), daily expenses (local travel, meals, snacks, metro, phone).

Participation in the summer program should not affect your financial aid. Before applying to any summer abroad program, please consult the AUWCL Financial Aid Office with any specific questions about your aid package.

Please Note: If you are a visiting student, you should consult your home school financial aid office to asses whether you will be able to complete a consortium agreement to transfer aid to AUWCL for your summer abroad.

Note that taking credits in the summer may make it possible for you to switch to part-time in a later semester, thereby recouping some of the costs.


Professor Jeffrey Lubbers
American University Washington College of Law
4801 Massachusetts Avenue, NW
Room 515B
Washington, DC 20016
(202) 274-4266
jlubbers@wcl.american.edu