Fourth Annual
International Legal Education Abroad Conference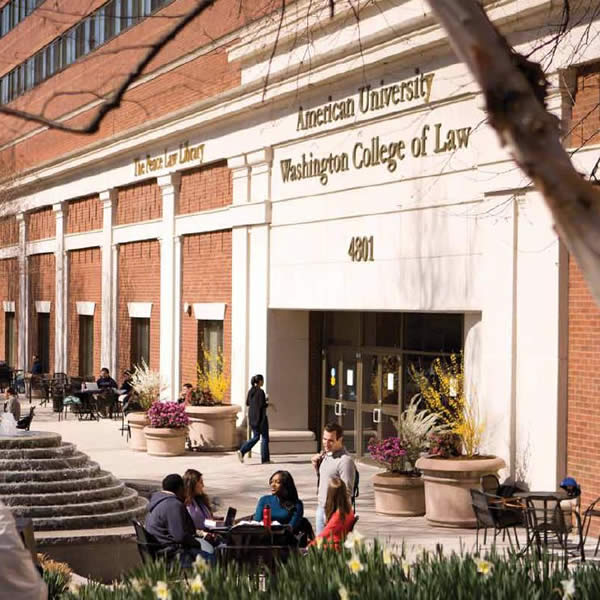 April 9-10, 2014
American University Washington College of Law
4801 Massachusetts Avenue, NW, Room 603
Washington, DC 20016
This two day conference is designed to bring together the key players involved in international legal education abroad to discuss common challenges and to develop best practices in the field. Please join us to explore some of the most pressing issues in this area of legal education.

Keynote Speaker: Robin Lerner, Deputy Assistant Secretary of State, Private Sector Exchange
2014 Conference Agenda
All conference sessions were recorded and are available to view online. To view a session, click on the session title listed below:
SCHEDULE OF EVENTS
---
APRIL 9, 2014
8:00AM - 9:00AM
REGISTRATION AND BREAKFAST

9:00AM - 9:30AM
OPENING REMARKS
Welcome Remarks: Claudio Grossman, Dean, American University Washington College of Law
9:30AM - 11:00AM
SOFT SKILLS ARE THE NEW HARD SKILLS: DEVELOPING GLOBAL COMPETENCIES
What are the skills needed to be a "global lawyer" and how do you develop those skills? Law schools, firms and practitioners can look to models in the corporate and business arena that have tried to address this question. In addition to technical hard skills, corporate America and business schools have long been emphasizing the importance of soft skills development.

Presenters:
James Denvil, Associate, Hogan Lovells
Rachel Gordon, Research Specialist in Global Opportunities, Washington College of Law
Nancy Beer Tobin, Assistant Dean, Executive Education at Georgetown McDonough School of Business
Astrid Schmidt-King, Office of International Programs, George Washington University
Kathleen Ambrose, Senior Vice President, Siemens Government Affairs
11:00AM - 11:10AM
COFFEE BREAK
11:10AM - 12:40PM
CONVERGING TRENDS IN LEGAL EDUCATION: GLOBALIZATION MEETS EXPERIENTIAL EDUCATION
Over the last decade, legal educators have increasingly recognized the need to prepare students for practice in an era of ever increasing globalization. More recently, changes in the legal market have imposed greater pressure to provide more experiential education for our students. To many, these trends create conflicting pressures. This panel will address that challenge and the means by which these trends can be complementary rather than competing, through innovative programs where students have transformative experiences in international legal practice.

Presenters:
Raquel Aldana, Director, Inter-American Program, University of the Pacific, McGeorge School of Law
Linda Carter, Co-Director of the Global Center, and Director of Uganda Law and Development Practicum, University of Pacific, McGeorge School of Law
Hannah Garry, Director of USC Law's International Human Rights Clinic, University of Southern California Gould School of Law
Fatma Marouf, Co-Director of Immigration Clinic, and Director of the International and Comparative Human Rights Law Practicum in India, University of Nevada, Las Vegas, William S. Boyd School of Law
12:40PM - 2:10PM
LUNCH
Keynote Address: Robin Lerner, Deputy Assistant Secretary of State, Private Sector Exchange
2:10PM - 3:40PM
RETHINKING OVERSEAS LEGAL EXPERIENCES FROM THE TOP DOWN AND BOTTOM UP
AN INTERACTIVE SESSION
With the current strains and pressures that law schools are facing today, the new reality is that beloved programs are being cut--from clinics to moot programs to overseas programs. What is the justification for keeping law school "study abroad" programs? If there are compelling reasons for international legal education, who needs to be convinced and what is the most effective way of doing that?

Presenters:
Geoffrey Bennett, Director, Notre Dame London Law Programme, University of Notre Dame The Law School
Colleen Graffy, Director of the London Program, Pepperdine University School of Law
Adam David Dubin, Director, Masters in International and European Business Law, Universidad Pontificia Comillas
3:40PM - 3:50PM
COFFEE BREAK
3:50PM - 5:20PM
INTERNATIONAL PERSPECTIVES: PREPARING YOUNG LAWYERS FOR A GLOBAL LEGAL WORLD
The globalization of legal education enriches the learning experience of students and prepares them for the challenges of global legal practice. But at the same time it poses several challenges as it entails bringing students from different legal systems and varied national experiences into the same classroom for comparative study and exchange. In this new frontier, what are some of the challenges in creating a course curriculum of relevance for such a group, and who are the prospective clients to be served by the globally trained lawyer? Are regional legal training initiatives a good interim step before attempting to create a truly global law school program? Or does regional legal training serve purposes quite different from global legal training?
Presenters:
Alfredo Attie, Judge, Supreme Court of São Paulo
Daniel Mitterhoff, President, China-Mekong Law Center & Professor of Law, Yunnan University
Eyal Benvenisti, Professor of Human Rights, Tel Aviv University Faculty of Law
5:20PM - 6:30PM
RECEPTION
April 10, 2014
8:00AM - 9:00AM
REGISTRATION AND BREAKFAST
9:00AM - 10:30AM
EMBRACE CHANGE BY EMBRACING THE LIBRARY!
With budgetary concerns abounding in almost every area of legal education, now more than ever is the time to exploit the existing synergies in your law school when thinking of how to enhance and support your international programs without undertaking unnecessary cost. Law school libraries are equipped not only with resources that can inform and educate students on the legal systems and cultures of other countries, but also with qualified librarians who are able to provide research training for students before they depart. This panel will discuss ways in which the library can help contribute to the success of the school's international programs and increase the benefits students take away from their international experiences.

Presenters:
Alison Shea, Reference Librarian/Foreign & International Specialist, Fordham University School of Law
Stephen Young, Senior Reference Librarian, Catholic University School of Law
10:30AM - 10:40AM
COFFEE BREAK
10:40AM - 12:10PM
EMBRACING CHANGE IN INTERNATIONAL PROGRAM PLANNING: STRATEGIES FOR FINANCING INTERNATIONAL PROGRAMS IN TIMES OF ECONOMIC TURBULENCE: AN INTERACTIVE SESSION
Law schools are being compelled to examine their ability to begin and continue international programs, and to market programs aggressively to keep them viable. Should a law school start a new program at this time? Should a law school discontinue any programs, or offset losses in programs with gains from other programs? Presentation will encourage an open discussion of strategies for developing or continuing economically feasible programs in these difficult times.

Presenters:
Diane Penneys Edelman, Director of International Programs, Villanova University School of Law
Toni Jaeger-Fine, Assistant Dean, International & Non-JD Programs, Fordham University School of Law
12:10PM - 1:40PM
WORKING LUNCH AND OPEN DISCUSSION
The continuing trend toward globalization in the practice of law is reflected by statistical data collected from within the US and the world at large. This session will begin with a survey of these trends and then the floor will be open to discuss any topic of interest to conference participants. Questions may be submitted in advance to ileac@wcl.american.edu.

Moderator:
Theresa Kaiser, Director, Global Opportunities, American University Washington College of Law

1:40PM - 2:00PM PLANNING MEETING
Open to all conference participants who are interested in planning next year's conference.
Registration
Registration is free, but required. To register for the 2014 International Legel Education Abroad Conference please click HERE
Accommodation Information